Natural Wonders of the Amazon
on Le Champlain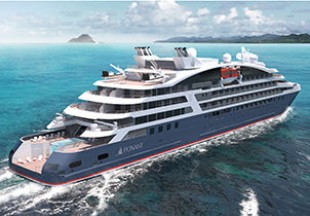 Natural Wonders of the Amazon
PONANT is inviting you to enjoy an unforgettable experience along the Amazon River, on a 13-day expedition cruise. Aboard Le Champlain, immerse yourself in the unique atmosphere of this mythical and impressive river in the heart of Brazil, following a brand-new itinerary.
You will board your ship in
...
Awaken Your Sense of Wonder – with PONANT Cultural Cruises & Expeditions
The world's only French-flagged cruise line and top cruise line worldwide in polar expeditions, PONANT Cultural Cruises & Expeditions currently has five distinctive and intimate vessels, embodying the essence of a private luxury yacht: the three-masted LE PONANT, an elegant sailing yacht accommodating 64 guests and four identically designed 'sister ships' with no more than 264-guests LE BORÉAL, L
...
| Day | Port | Arrive | Depart |
| --- | --- | --- | --- |
| 1 | Manaus | | 6:00 PM |
| 2 | Silves | | |
| 3 | Botos | | |
| 3 | Parintins | 2:00 PM | |
| 4 | Parintins | | 6:00 AM |
| 4 | Balaio | | |
| 5 | Santarem | 7:00 AM | 9:00 AM |
| 5 | Alter Do Chao / Jari | 12:30 AM | 7:30 PM |
| 6 | Curua-Una | | |
| 7 | Guajara | | |
| 8 | Ilha Ituquara | | |
| 8 | Abacate, Strait Of Breves | | |
| 9 | Belem | 7:00 AM | |
| 10 | Belem | | 12:00 PM |
| 11 | At Sea | | |
| 12 | Iles Du Salut | | |
| 13 | Cayenne | 7:00 AM | |